We are entering the last week of the summer vacation before the kids return to school. Suddenly, there is so much to do! Yesterday morning my previously wide-open week filled up with people calling to squeeze in last-minute playdates.
I said no to some and yes to some (I live in Minnesota so I have to be nice). Why do people do this? The last-minute thing, I mean? I try to make my appointments
weeks
in advance when it involves people. And I'm the world's most accomplished procrastinator!
Yesterday morning, I wrote this status update on FB. What I was doing on FB when I was supposed to be sewing, I don't know.
Honestly, I had very low expectations.
So low, in fact, that at 3 pm, I gave up and went swimming. Why fight it? It was looking like one of those days in which nothing on my to-do list was going to get done anyway. I was a wreck when I left the house: grouchy, headachey, and with one miserable meatloaf in the oven when I secretly wanted lamb rogan josh with basmati rice.
At the end of the day, the bag was untouched. As expected. However, the laundry was done, the dinner was cooked, the cookies were baked and I went for a run as well as the swim (well, whatever that playful splashing in waist-deep water with children hanging on to various parts of my swimsuit is called).
In other words, motherhood - 1, crafting -0.
Is there a point to all this sickening self-exaltation?
Yes - while looking back over the day's happenings, one thought struck me: I couldn't have done this two years ago. Forgive me- I didn't mean to sound superior. If anything, my jaw dropped in wonder and my heart swelled in gratitude when this realization hit me. Let me explain.
Two years ago, my girls were 5, 3 and 2. My days were full of diapers and naps and washing and wiping and sippy cups and small, messy snacks and potty-training charts. And watching -monitoring, overseeing, checking, double-checking, chasing, entertaining. And, very often, flitting between sick children, medicating, taking temperatures, staying up at nights to clean up barf, chloroxing everything in sight. Read? Only if it's the dosage chart on the backs of Tylenol bottles. Sew? Brahahahaha!! Blog? Only to keep from going freaking insane while missing family back in Singapore.
Mum said in those early baby days, "It gets easier when they get older. Don't worry."
I didn't believe her. It would NEVER get easier. I would always have three children whose ages were 3 years apart between the youngest and oldest. They would always be needing something. I would never have time for anything that wasn't related to the kitchen, the bathroom, the diaper mat, the nursing chair. I would never swim a lap again in my life. I would never be able to leave the house alone to do something as luxurious as running; if I had "time off" because the husband was on child-duty, it was to see the doctor for mastitis.
And I would never, never, never, ever have made a stupid list like my status update on FB yesterday. It was an inferiority complex, depression (hormone-induced or otherwise) and beating-self-over-the-head-with-someone-else's-glossy-paged-published-craft-book nightmare waiting to happen.
But you know what? Inexplicably and without my realizing it, my babies grew up a bit and became real girls, with full vocabularies and independent streaks and wonderful personalities. They can do things on their own now (some things, anyway). They don't need me in those endearing-yet-debilitating ways that they did when they were stumbling around the house on unsteady feet. Mum was right after all. And I am getting a bit of myself back. Not quite the old LiEr from a decade plus ago, though. This LiEr can't quite do the late nights thing as well as she could and doesn't hang out with very happening people the way she used to and certainly can't keep the pounds off while eating full-fat ice cream and lard-filled roti prata at midnight the way she did when her metabolism actually worked. But I think this is a better LiEr, because she's done the motherhood thing and survived- nay, lived - to celebrate each day since, sticky kitchen floors and zero short-term memory and all.
Many people have left comments or emailed to say the equivalent of, "How do you get so much done?" I never know what to say because anything witty would sound flippant. I know some of you meant it as a compliment and for that, I thank you. But I also sense that, for some of you, maybe it wasn't just rhetorical. Will you accept, instead of a list of secret tips (which I really don't have), a big hug and my mother's wise words, "It gets easier when they get older"?
Squish your little ones while they are little, friends. Be good stewards of the gift that are these precious- and maddeningly frustrating- early years. Expect nothing more from yourself than getting through the day (as my neighbor so aptly put it) "without losing any of the children". You will swim again, sew again, write again, dress in non-baggy clothes again, hang out with your husband again, dream again. And when that happens, look back and tell someone else that you did it, not by being organized or savvy, but by gripping the edge of sanity by your unmanicured fingernails and letting time take you on a fantastic journey. There are no motherhood success secrets - no personality types more predisposed than others towards avoiding breakdowns because all of us have fallen off the Type A/Type B spectrum from sheer fatigue. The only thing we do have in common is that we are women- and women are made for resilience in the face of repetitive challenges* and for kindness to each other. I've learnt that it's not about being mighty; it's about asking for help and saying thank you when it comes.
My other bit of advice is to go swimming. Really! I'm going through swimming withdrawal symptoms so badly that I've signed myself up for swim lessons in the fall. When I can already swim (but don't tell the instructors that)! Seriously, I'm going to have them teach me some good stuff, like kickturns and the butterfly stroke, both of which I am useless (translation: can only watch other people do it, and drool) at.
And that, friends, is my grand "slice of real life" story for the day. And speaking of Mighty Women, I'd like to share three sites that bring together women bloggers who Write About Stuff. I think you'll enjoy them. They were nice enough to invite me to Say Stuff, which I did, so you'll see me there, but that's beside the point. Enjoy the melting pot of viewpoints, inspiration and personalities, find some new favorite blogs and know that among these women, you are in good company.
First is Whip Up -
Kathreen hosted the mind-blowingly awesome Creativity Series earlier this year, in which she invited bloggers to write on specific topics:

creativity and health; creativity and business; creativity and parenting or creativity and process

. Some of the stories made me weep, literally. You'll love the brokenness, the honesty and the strength of these women. My story isn't particularly moving, but you can read it here anyway.
Next is Bonbonbreak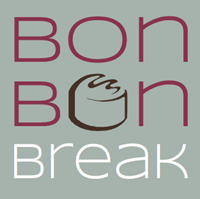 which Val and Kathy fill with stories, insights and links to all manner of wonderful resources in the categories of Kitchen, Front Porch, Family Room, Bedroom, Playroom, Backyard and Mom Cave. Here I am in the Playroom, going on about cardboard.
And, finally, Noodles On The Wall,
I hope you enjoy them!
*
how many men do you know who can repeatedly sing The Wheels On The Bus in falsetto with all the verses and and actions without frothing at the mouth? Eh?